9/19/2013
BUCK FEVER . . .
We are your Deer corn and Deer feed headquarters. Whether you need whole corn or specialized deer feed we can meet your needs.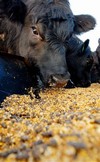 9/19/2013
BOOKING SEASON IS HERE!
It is that time of year again! We are now booking feed for the winter months. Give us a call in the next couple weeks to get your booking taken care of. Have a great winter!!